Today, Anarchy Online celebrates its 17th year of active service. Not a whole lot of games can boast this kind of accomplishment, and we sincerely thank you for your continued love and support of Anarchy Online. You are the very matter that makes up this universe, so thank you again.
To celebrate, beginning today (June 26th) and lasting until July 19th, Ganimedes Personal Jetpack & Nano Crystal (Balloons) are available in the shop, and an array of new membership offers and new armor that increase stats as you level up! Plus, ANY account in good standing (i.e. not suspended, deleted, etc. ) will be able to log in for FREE starting today until July 5th.
Subscribers can also log in to pick up a Ganimedes Personal Jetpack MK II!
SPECIAL OFFERS:
Purchase a 3 month subscription to receive the Dust Brigade Tech Unit Legwear, Gloves, and Boots, along with one Combat Nano Can: Premium Experience Boost.
Purchase a 6 month subscription to receive the Dust Brigade Tech Unit Legwear, Shirt, Sleeves, Gloves, and Boots, along with two Combat Nano Can: Premium Experience Boost.
Purchase a 12 month subscription to receive a Vacuum-Packed Dust Brigade Tech Unit Armor pack which includes everything, a Dust Brigade Technician Datapad, and four Combat Nano Can: Premium Experience Boost.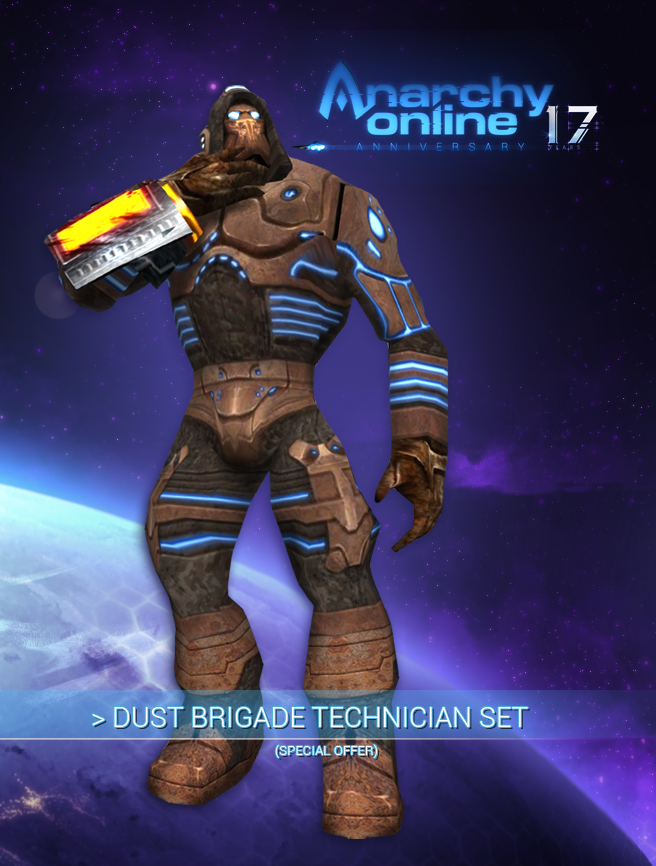 Combat Nano Cans are shared among characters on your account.
The Tinker returns to Newland Desert, ready to make things come up explodey for her favorite foe, The Desert Rider! Join her in her madness and eliminate Desert Nomads to find parts for the many gifts she wants to make. The Desert Nomads will be located in Newland Desert, Mort, Perpetual Wastelands and Broken Shores.
Upon defeating the Desert Rider, a personal teleport beacon will be left behind. It will not have much energy remaining, so access it before it deactivates to gain access to a hidden Desert Nomad fortification. This initial incursion into a Desert Nomad outpost will be a single-person encounter that will scale to players of all levels. Desert Nomads encountered here will offer unique rewards, with the Officers being able to drop pieces of the Elite Desert Nomad armor. The Desert Rider himself will also be carrying 2 Vacuum-Packed Elite Desert Nomad armor packs.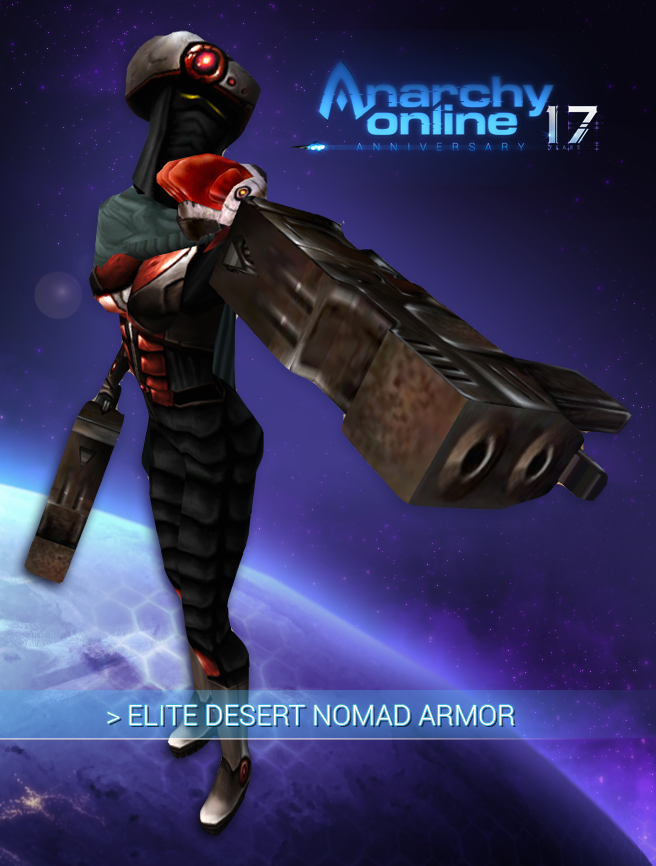 The Tinker will reward you for your efforts, especially if you walk the extra mile to get her the items she needs! "Vacuum Packed Desert Nomad Armor" await you if you assist her in collecting 250 items. She will complete a gift with 500 items this year!
When defeating a Desert Rider, all you need to do is approach the large present that is left behind, and claim a prize from the Desert Rider's personal stash!
Finally, the SBC-Xpm Sites once again feature a cadre of Desert Nomad Commandos, tasked with protecting additional rewards from the Desert Rider's private storage.
Thank you all again for your love and support as we enter the 18th year around Sol's orbit!